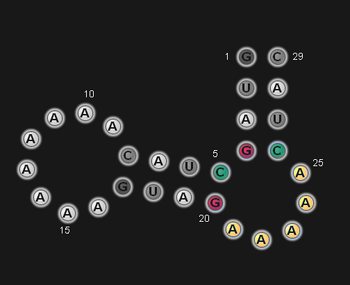 A bulge is a region of unpaired bases with two adjoining stacks. In a bulge, the unpaired bases are only found on one side of the molecule. This differs from an internal loop, where unpaired bases are found on both sides.
Nomenclature
Edit
Bulges are typically described by the number of unpaired bases. In the illustration to the right, 5 bases are unpaired.
Ad blocker interference detected!
Wikia is a free-to-use site that makes money from advertising. We have a modified experience for viewers using ad blockers

Wikia is not accessible if you've made further modifications. Remove the custom ad blocker rule(s) and the page will load as expected.